Good morning, Kitschies! I didn't play last week (kind of a busy week that one was), but you can bet I'm going to join up today.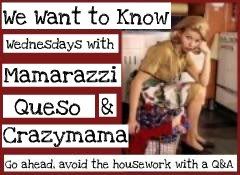 This week's We Want to Know Wednesday questions come from
Alicia aka Queso
.
1. Do you have any musical talents?
I played flute and piccolo in high school - was in marching band and everything! I used to be quite good (really, I was), but it's been a long time since I played. I played for a while back before Nate was born but I haven't really been all that interested in picking it up since.
2. What role, if any, does music play in your life?
Music is everything. It sets my mood (accents or augments), it helps me express myself when my own words escape me. Music is memories, feelings, markers in space and time. I would say I have music on 95% of my waking hours.
3. What is your all time favorite song?
Really? I have to narrow it down to just one?
I thought about this on and off all day on Tuesday. My favorite song isn't a song at all, but a piece of music.
A very old piece of music: Beethoven's Symphony No. 7 in A Major Op 92 Allegretto. Seriously. What a strong, passionate piece of art.
4. Do you sing in the shower?
In the shower? No. In the car? All. the. time. Mason tells me to sssshhhh! sometimes.
5. Has a song ever made you cry?
Yes. More than a few of them, actually. Here's a short list. These get me every. single. time.
Clair de Lune
Winter
God Bless the USA
Gravedigger
Charging Fort Wagner
(and most of the Glory soundtrack)
I think these questions are my favorite out of all the 31 weeks of questions! Thanks to
Queso
for these great questions.