Good morning, Kitschies! How can it possibly already be Wednesday? Unbelievable. Anyway...since I'm too
lazy
busy to get more pics prepped for my blog, I decided to hook up with We Want to Know Wednesday again.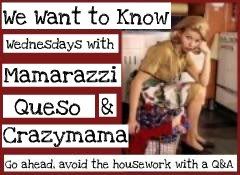 This week's questions come from
Janette
.
1.
What game show have you always thought you could be on and totally WIN?
I think I would totally rock (pun intended) Name That Tune. It hasn't been on in a REALLY long time (like, 1985), but for whatever reason, I can remember melodies and lyrics like nobody's business. That, and I think my hubs and I would dominate Survivor. What I wouldn't do to get on a show like THAT!
2.
Do you have a tattoo(s)? What are they and what made you chose them? If not, would you get one, yes/no/why?
I sure do! 4, to be exact. I got #1 (a band of music notes around my right ankle) when I was 18 - I was engaged to a musician at the time and music was (and still is) a big part of my life. I love it, but it needs some touch-up work. #2 (a red, white and blue tribal scarab on my low back) came about shortly after I moved to Albuquerque (maybe around 2000?). I'm patriotic and I liked the design. There's a bit of a story with #3 (a faerie with a vine around her). I was scheduled to get her done on 9/11. Yes. THE 9/11. Of course the shop was closed so I rescheduled for 9/18. I wanted a faerie for a long time and the guy who did #2 drew #3 for me and she is so pretty. #4 joined me in October 2007 and is the letter N (for Nate) on my left wrist. I want to get at least two more....some day.
3.
What is your favorite piece of jewelry that you own?
That would have to be my wedding and engagement rings. I did a post on my rings a while back as one of
"My Favorite Things"
. We ordered the band out of a catalogue (how romantic, right?), but it's the inscription of "A blessing on the soul" in
Ogham
that makes my ring special.
4.
What is your driving pet peeve(s)?
Ooooh...I have a BUNCH of driving pet peeves but I'll go with the two biggest ones. Not using turn signals and speeding/swerving through traffic just to get one car ahead. I swear, it's like when people come in to New Mexico, there's some secret switch that automatically turns off their turn signals. It's horrible. And the speeding/swerving thing? How far ahead do you ever really get? If I can look over and see you sitting RIGHT NEXT TO ME, there's no point.
5.
What was your favorite sitcom growing up that you wish was still on?
I have a few. Cheers, The Cosby Show, The Facts of Life...the list could go on and on and on! But, of those, I think I miss The Cosby Show the most. What a great family!
Check out the linky at the top of the page for lots and lots of other WWtKW memes. It's always fun to blog hop and get to know new bloggy buddies!