Good Wednesday, Kitschies! I was stuck all day yesterday thinking that it was Monday (it was kinda my Monday) and now it kinda feels like Friday because my docs are out for a week starting tomorrow. My days are ALL mixed up. And then top it off with the hubs saying "Oh, it's a 3-day weekend this weekend." Yep. We're all messed up.
I'm linking up with a fun group of gals again for We Want to Know Wednesday. Let's see what the beautiful
Seriously Shawn
has in store for us today...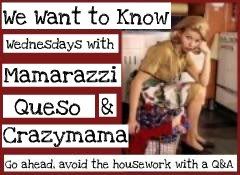 1.} What must you do before you go to bed at night?
I must turn off the blue alien eye. What's that? You don't have a blue alien eye of death in your room? It's the power button to the DirecTV box and I hate it. It seriously keeps me up at night...it's *that* bright.

2.} What is one thing you must snack on at the theater?
Must. Have. Popcorn. With butter, of course. But, dang! Why does it have to cost me almost a weeks' pay to get a ticket and a tub 'o popcorn? And a soda - diet is good but if the hubs is sharing, he's not down with the whole "diet" thing, so then it's usually Sprite or whatever. And something sour - like Sour Patch Kids. YUM!

3.} Before going on vacation what must you do?
I must have a plan. And a backup plan. And it all has to go smoothly. If we leave late, I stress out. If the weather is bad (this usually only has to do with the Christmastime trips to visit my parents), I stress out. I must make lists. Lists of things to do before we leave. Lists of things to take. Lists. Lists. LISTS!

4.} What is one thing you must do every day?
I must drink coffee. I didn't used to be *that* girl, but I am now. And I've been a bad influence on the hubs because he's the same way. I'm not saying cupS of coffee, but if I don't have my one cup in the morning (usually on the way in to work), I'm a blithering idiot. And the coffee at the clinic is like black tar, so I do my best to make my own at home.
5.} Is there something you do that must be done in a particular order?
At home, not really. At work? Yes. I must do a patient triage (for lack of a better word) in a certain order or I forget to do a step. I'm horrible about that. You'd think, after 8 years at the same job, I could do something out of order, but nope. It goes like this: hop up on the scale, get the stuffs, take the pulse and temp and then the BP. If I don't do it in THAT order, I get all flustered and forget numbers and then I have to do it all over again. Pathetic. Same with explaining how one of the therapies works. I sound like a tour guide, but I get the job done. If I get interrupted, I don't get all the information out and I sound like I just started on the job two days ago. *sigh*
Thanks, Shawn, for some great questions!! Link up, will ya? Tell me what some of your MUSTs are.