The alternate title to this post should be: Better Late Than Never. *sigh* It's been a super busy week and I'm finally getting around to posting about my awesome swap with Kelley from
Kelley's Family Jewels
.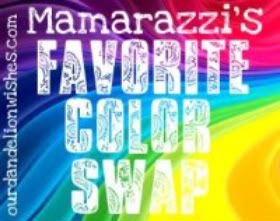 Ms Mamarazzi did it again! Another great pairing for another awesome swap. Really. She's the best there is at blog swaps. Don't believe me? Join up next time around.
Anyway...I got my box full of goodies on Wednesday (after it traveled from Northern CA, to Tennessee and then *back* to New Mexico). Wanna see what I got? I know you do...
Then it was time to uncover MY goodies!!
"I started with a theme in mind of doing things for fall; but then I thought, does it even get cold in NM? The cuteness won me over, so I got it anyway. (I since Googled weather in NM and see that it in fact, can snow in the winter. Learn something new every day.)"
Yes, it does get cold in NM...and I'm hoping it doesn't get quite as cold this Winter as it did last. Love the scarf - I'm starting a mini collection and this one fits right in!
"I always include a favorite food in my SWAP boxes; this is my favorite red candy. (I like licorice too, but seemed too obvious.) I loved to sneak this in my purse to movies! Another big plus, no one ever wants any so sharing is not an option. Muah-ha-ha ha"
LOVE Hot Tamales! Nate asked for one and he ate it, but he didn't ask for any more. LOL Guess that box is ALL mine!
"Frag-ee-lay" "This is a little sample of an iconic treat from my hometown (Northern CA) so you remember your swap buddy."
Red wine...SCORE!! My favorite wine is Merlot. I am liking Kelley more and more!!
"Now, this is not technically red...but I thought this OVER red would look awesome, especially during the holidays."
Yep. You're right...this WILL look great over red. A sparkly red! Crackle polish is *awesome*.
"This is crucial for any busy mom and another of my favorite treats...There is one for when you are on the move and a second for relaxing at home. It's a yummy treat either way you go."
Wine AND coffee (no, not together)? Girl...you have got me wrapped around your finger! I used my new "at home" mug Wednesday morning and my "on the go" mug this morning. I am diggin' this stuff!!
Oh! And one more thing. Nestled inside the "at home" mug were a couple more goodies!
Thank you SOOOOO much Kelley!! You put together a *great* swap package - I love every single thing!! I think this has been the best swap I've been in so far (except for when I swapped with Mamarazzi, but that doesn't count).
Wanna see
what I gave Kelley
? Check it out
HERE
. Wanna see what other people got in their swaps? Check that out
HERE
.