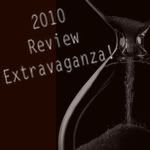 If you read my post last Friday, you know I'm linking up with Emmy's 2010 Review Extravaganza. It's being broken down in to 3 months at a time (which makes it quite a bit easier for me - thank you), the first being January, February and March. Since I wasn't blogging yet, I decided to share pics of the family and what we were doing at the time. All collages are click-able to view full size.
1. Mason - 7 months old. Chubby little baby legs and squishy cheeks. Sitting up, but not crawling yet.
2. We transformed our living room in to Thomas the Train Central. Mason watched from his Exersaucer.
3. Handsome boy Nate - 3 1/2 years old.
4. Once we let Mason out of his Exersaucer, he liked "helping" his big brother play with the trains.
1. Grandma and Beba (my parents) came to visit. Nate entertained them by playing Candy Land.
2. Mason's first bath in the big tub (he's a fish!).
3. Celebrating a cousin's birthday complete with Spongebob hat and cap gun. Oh, and cake.
4. Grandma and Beba spoils their grandkids. They bought the walker for Mason while they were here. He loved it even though he wasn't *quite* big enough to really use it.
1. Nate helped make a card for his Aunt for her birthday (colored, cut and glued by the big boy).
2. SNOW! We didn't get much last winter - I think this was the most we got.
3. Nate's first buzz cut.
4. Mason can crawl and he gets in to everything!
I hope I haven't bored you too much with pictures of my boys. I love them so much - they teach me something new every day. And when they laugh, it melts my heart! Thank you to Emmy for hosting this review. I have loved going back through the pictures to see what I want to share. Please click on the Review Extravaganza button at top to be transported to the wonderful world of reviews!