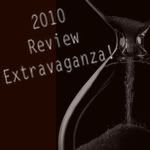 Today is my second link up with
Emmy Mom
's Review Extravaganza. To make it easier on everyone, she divided the year in to three-month chunks. You can find my First Quarter review
HERE
. Once again, each image is make big-able. I'm not a pro at my digital scrapbooking program, so the pics aren't the best, but I like how all three of these turned out!
Here's what's going on in the pics, starting at the top left corner and going down. Easter - the family. Me and Mason (also Easter). Me and Nate at the opening of a lava tube. Now top right corner and going down. The hubs and the boys at the opening of a lava tube. Mason at 10 months (Easter). Nate at 3 years, 9 months (Easter).
April was a big month!! There was Easter that we celebrated at my MIL's house. My addiction to nail polish started with a measly three polishes and I
started blogging
. I also started exercising, but that didn't last very long. LOL
Starting at the top left corner and going clockwise. My bestie's son, her daughter and Nate at Soda Dam in Jemez Springs (Mother's Day). Mason and Nate's first time in the pool in the backyard (Mason looks COLD!). Me and the boys on Mother's Day. The hubs and I in the Jemez at a little waterfall. Mr Mason at 11 months (not quite walking yet). Mr Nate and his girlfriend (my bestie's daughter).
We spent Mother's Day with my bestie and her family in the Jemez on a picnic. The weather was perfect and we had a great time hiking around the area. My parents and sister came to visit for Mason's first birthday (in the next collage).
Starting at top left corner and going clockwise. My mom and the boys at Mason's first birthday party. The birthday party gang. Mason, the birthday boy! Carlsbad Caverns. A barn owl that took up residence in a tree in our front yard (Nate named it Sugar). Beba (my dad) and Nate. Mason enjoying his first cake. Mason's 1st birthday (actual day) cupcake.
My little boy Mason turned 1! We had a party with all the cousins (and my mom, dad and sister joined in the fun, too) and Mason dug in to his cake! It was a big month for Mason. He also started walking around Father's Day. June is also my wedding anniversary (it was celebration #6 this year). The
hubs surprised me with a trip to Carlsbad, NM
for a few nights without the boys where we went to the Carlsbad Caverns. I've lived in New Mexico for 10 years and I'd never been there! I continued my addiction to nail polish with my introduction to the
Zoya polish exchange program
. I also started participating in
Polish Hoarder Disorder
's
weekly challenges
(oh, how I miss them!).
I'm also linking up with
Christopher and Tia: Flashback Friday
.
Second quarter of 2010 is finished. It seems like these reviews are going by just as fast as the year itself did!! I hope everybody enjoys their weekend and gets a chance to relax a bit before Christmas gets here (it's just around the corner!).