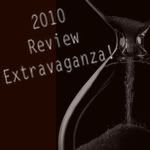 Can you believe it's the last day of 2010?! The last day of the first decade of the new millennium. Where has the time gone?! It's been a super busy year, as always, and thanks to
Emmy Mom
, these reviews make it just a little easier to remember. I have so enjoyed putting these collages together. I think I might just do these as the months go on so I don't forget a thing. It feels like I did this last review a month ago - that's what happens when you get so busy with the holidays. So, here we are...the final review of the year. Remember that all pics are clickable to make biggable.
In October, the bestie and her hubs and my hubs and I
went on a little getaway
to Ruidoso, NM. We spent a couple nights in a great cabin in the woods. Good food, great friends and good times. The boys and I went to the
Albuquerque Aquarium and then to a park for lunch
. We also took many trips to the neighborhood park and even spent a couple hours at the play place in the mall! Oh, and don't forget
Halloween
! Nate was Darth Vader and Mason was a cute little lion (though he wasn't very happy about it).
Going through my pics, I realized that I didn't take many in November. The hubs went hunting and ended up with a good-sized deer. We now have venison for days! It *was* a big month, of sorts, for Mason. He had his first hair cut! He was so handsome, but again, he wasn't very happy about it. Sometimes, my boys make me want to pull my hair out. It seems that Nate does everything possible to make Mason scream. And then, there's times when I just want to grab them and hug on them, like the picture on the bottom left. I love when they play together like that. And then Nate gets tired of playing with Mason and sits quietly and plays by himself. That doesn't happen very often.
How can December be almost over? Seriously. Too much stuff to do and I'm not ready for the new year. This collage is a collection of some of my favorite pics from December. Starting at the top left corner and coming down. Nate on a big twisty slide in Bakersfield. I love it when I can get a good pic of Nate! Nate with Santa - it was an impromptu pic, so that's why Nate has big holes in the knees of his pants. Mason didn't like Santa. Big surprise, right? That poor boy has a great case of "stranger danger". The first snow in Rio Rancho was a good one (6-8"). A couple days before Christmas, we had a gorgeous sunrise. Views like this make me love NM. The Christmas chaos before everything was opened. You should've seen how much of a mess there was after everything was open!! My parents were much too generous (and the boys - and us - love them for it)! After Christmas Eve at my grandma's house, Beba read The Night Before Christmas to Nate. It was supposed to include Mason, but he wasn't having it. I love quiet times with the boys!
Not only am I linking up with
Emmy Mom's Review Extravaganza
, I'm also hooking up with
Christopher & Tia's Flashback Friday
. I love the blogging community. A special thanks to
my bestie
for introducing me to blogging. Putting this blog together has been a great source of happiness.
Whatever you do tonight, please be safe! See you next year!! And remember...a new giveaway will pop up soon.