What?! It's Wednesday already?! OMGosh where does the time go? Still have lots left to do to prepare for my trip to Cali with the family. Pretty soon I'll be counting down the hours until we leave NM to the clean Cali sun (rather ironic, really). In the meantime, it's We Want to Know Wednesday!!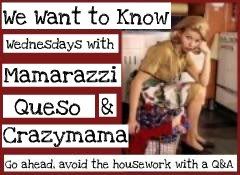 This week, we have questions from the lovely Janette from The Johanson Journey. I think these are the best questions yet! Avoid the laundry and answer some questions with me!
1.

Everyone seems to have a quirky family situation-- what is something unique about your family dynamic?
Hmmm...let's see. Don't want to air too much dirty laundry. My family lives in Cali and it's pretty normal. Save for my grandma and aunt who live together in a very co-dependent relationship. And then there's my hubs' family here in NM. I think I'll leave that at that.
2.
What is the most stressful aspect to blogging (aside from the network going down)?
Coming up with good things to talk about. And prepping pictures. I used to be able to sit down and prep a bunch of pics at a time, but now that I've been at it for a year, blogging isn't the first thing on my mind as soon as the boys go to bed at night. So, I guess when it all boils down, the most stressful part is finding time. Just plain finding time. For all of it. Blog. Life. Hubs. Hobbies. All of it.
3.
We all end up on a blog at some point in our day, but name your top 3 favorite websites you flock to daily (non blog)!
Facebook, of course. Allrecipes and Tornadovideos.net. Those are both super addictive. Who else is looking forward to this season of Storm Chasers?!
I'm addicted to the website AND the show, thanks to my mom.
4.
What's your sign?
Believe in it or not, does any part ring true to you?
Depending on which "chart" you use, I'm either a Leo or a Virgo...I'm right on the cusp (August 23). I am absolutely, hands-down, a Virgo.
5.
IceCream!! ICECREAM!! We all scream for icecream! Name your favorite flavor/brand! (Its hot here, can't help it).
THIS is a hard one!! I'm torn between 3 things: Dewar's peppermint stick ice milk (not quite as rich as ice cream but tastes just as good), Dewar's tan and white (coffee ice cream with caramel sauce) or Ben & Jerry's Phish Food (choco ice cream with caramel and marshmallow swirls and choco fudge fish). Now I'm hungry. Great.
Thanks Janette! These were great questions!! For more great WWtKW participants, check out the linkie HERE.
Happy Wednesday!! Enjoy your day. See you again tomorrow. :)