It's Wednesday! I don't know about you, but it seems like this week is dragging by. I think it's partly because the hubs left early Monday morning to scenic El Paso and won't be back until late this evening. And, it's partly because my docs are leaving for a week starting today, so I've been looking forward to some down time at the clinic. Either way, it's Wednesday, and you know what that means...
Put down that laundry (or the cleaning or the baby - just for a minute) and join me for We Want to Know Wednesday!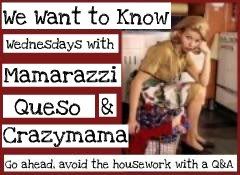 Don't know about questions 1-3, but 4 comes from
Amberly Adventures
and 5 comes from
All Along the Hightower
. Both great blogs I love to visit - you should visit, too!
1. What was the last thing you searched for online?
Well, I'm cheating. I'm filling this out at work on Wednesday...shhhhh...so it was probably something clinic related. You know. Trying to find the best gastroenterologist in town. Or looking for inexpensive temperature probe covers. Something cool and exciting like that.
2. If we visit your home state, what is one MUST we should do before leaving?
Home state? That's a hard one. If you'd said home town, that would've been much easier (and that would be having "lunch" at
Dewar's
in Bakersfield, CA). But, since you're saying state, I don't think I can narrow that down to one thing. If you're in Southern CA, I'd say visit
Sea World
. Central CA? Visit Hollywood and go to
Universal Studios
. Sure,
Disneyland
is cool, but Universal Studios is better for adults. Now, Northern CA is a two-fer. Gotta go to
Monterey Bay Aquarium
; easily the best aquarium in the US. And...you have to go visit
Santa Cruz
. Such a pretty small-ish town with a fun boardwalk. If you've seen Lost Boys, you've seen
Santa Cruz boardwalk
. So much fun!
3. What do you think pharmaceutical companies should invent a pill for that isn't on the market yet?
I'd say male birth control, but that's in the works, so...lemme think...
4. When was your first kiss? Was it good or bad?
My first kiss was actually in kindergarten. Don't judge. It was completely innocent. Was it good? I was in kindergarten - who knows! But, my first *real* kiss was the summer before I went in to high school. And, yes. It was good.
5. What is your guilty pleasure TV show that you can not miss?
Project Runway
. I DVR all the episodes. I love how creative and talented those people are. I mean, they are given a challenge and then they have to come up with something completely on their own (without the use of outside information like the internets). And then there's the inevitable drama which is good to watch, too. Oooh! And I just found out the new season starts in just over a month. WOOT!
There ya go! Check out
Confessions of an Impulsive Addict for more great WWKTW
!