Good morning, Kitchies. It's been a long morning already and it's not even 7 yet! Mason woke up sick (like, puking sick) this morning at 2:30. And then again after 3. He and I ended up sleeping on the couch and let me tell you. For being so small(ish), he sure does take up a lot of the couch! LOL I'm tired. I feel bad for not being at work today because it's going to be super busy. But, family comes first and I'd rather be with my sick little boy than have somebody else watch him right now. Anyway...I missed WWTKW last week, so you can bet I'm going to get on it today.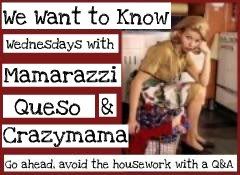 This week's questions come from
Seriously Shawn
...
1. What is the best or worst pick up line you have ever been given?
You know...I can't remember any pick up lines that were used on me. And no, I haven't used any. Guess I'm starting this week off with a bang! LOL
2. What is your most and least favorite day of the week?
I don't like Monday. Original, I know. My favorite day of the week is Saturday because it's the weekend and there's still one day left to enjoy before I have to face my dreaded Monday.
3. How many hours of sleep do you require each night?
Require? At
least
5, but I'm much better with 8. I've functioned on less, but not very well. And I'm not usually very happy about it (kinda like today - I probably got about 5 today and I can tell it definitely wasn't enough).
4. Is there a song that takes you back in time? What is it and what memory is attached to it?
There isn't a specific song, but there are groups that take me back. Like
Chicago
,
The Doobie Brothers
and
Billy Joel
- they all remind me of camping during the summer with my family when I was growing up. Oh! There is a piece of music:
Rhapsody in Blue
. For the same reason. I love Gershwin!
5. What is your biggest guilty pleasure?
Doing my nails. Or watching a show that only *I* want to watch. Those are kinda lame answers, but they're good enough for now. My brain isn't quite functioning yet.
*sigh* I need to get some coffee. Be sure to check
HERE
to see other great WWTKWs. See you soon!