Good day, Kitschies! I haven't linked up in a while, so what better time than now to get back in to the swing of things?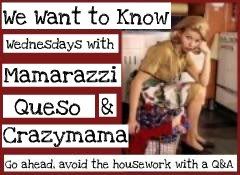 So, join me along with
Mamarazzi
,
Queso
and
CrazyMama
for randomness at it's best!
This week,
CrazyMama
is asking the questions...let's see what she wants to know.
1. What is your most commonly used word or phrase when you are frustrated?
Starting off with an easy one, huh? That would be: Oh, good god! Yep. I say it a lot.
2. What random questions do you usually get from strangers or casual acquaintances?
"Oh, you're letting your hair grow out?" 99% of the time, the answer is NO...I just don't have the time/money/energy to get my hair cut.
3. Did you ever correspond by mail with anyone? Who? Do you still have the letters?
Yes I have and yes I do. I used to have a couple pen-pals, one, in specific, I met while camping when I was a tween. Her name just happen to be Meghan and we wrote back and forth for a few years before we both got too busy to keep up with it. No, I don't still have the letters. Too bad because I'm sure those would be an entertaining read. I still send letters by mail. There's nothing better than getting something personal, like a letter, in the mail!
4. Do you dance in public? Why or why not?
Nope. I just don't. Why? Because I don't dance. I just don't. And if I did, I'd probably look like Elaine from Seinfeld. Seriously. You're lucky I can coordinate myself enough to roll around on skates twice a week. I'm one of those people who can barely walk and chew gum.
5. What's your favorite kind of chapstick/lip balm?
Funny...just the other day I posted on FB that I needed some cherry Chapstick...cuz I really needed some chapstick. I just wanted to see what kind of response I'd get. ANYway...my favorite is Softlips, any flavor as long as it's not *pearl*.
That was fun! Join us...you know you want to!