Today was my Monday. Thankfully, it was a little better than the usual Monday. My back is still bothering me and that's a huge drag. I was in a blah mood on the way in to work this morning and then my bestie sent me a text that brightened my day. There's a reason she's my bestie!!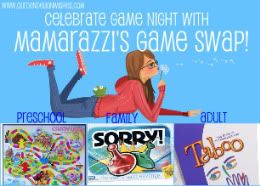 Anyway...I participated in
Mamarazzi's Swaparazzi: Game Swap
. My swap partner this time was none other than Mamarazzi herself! No pressure there. If you're not familiar with Mamarazzi, she's the owner/contributor to
Dandelion Wishes
. She throws the BEST swaps. Next time she has one, I'll link to it, and you should participate. So much fun!! I digress. I got my box 'o fun from Ms Mamarazzi yesterday. And I just so happened to be home...alone...so I ripped right in to that sucker!
Look at that box!! She's got awesome handwriting. And the little designs on the box were so cute! I *almost* didn't want to open it. Yeah, right!!
Everything was wrapped in pretty pastel paper. And every package had a little "...because..." note. So cute!!
Look at all my stuff!!! I felt like a kid on Christmas morning.
Now to the GOOD stuff!!
1. ...because EVERYTHING is better with Goldfish. Hello, it smiles back...awesome! Goldfish snack crackers!
2. ...there never seems to be one of either of these things around come game time! Notepads & pens
3. ...sweets & sours! Mike & Ikes and Warheads
4. ...because this is an absolute must for game night! Microwave popcorn
5. ...to play in the background...because good tunes make an evening fun! Mix CD
6. ...an ALL TIME family favorite! I happen to be the current champ! Thank.you.very.much. Phase 10
7. ...we could play this one all day & night! Perfect for taking to the beach or picnic too! Triominoes
8. ...you are special...this one is not even in stores yet! Wooo hoo!!! Trivial Pursuit: Bet You Know It
She really went all out with this package! Not only did I get a new game, I got 3 new games!! I have other Trivial Pursuits, but not this one. How could I? It's not even in stores yet!! I've never played Phase 10, but I'm always up for a new game! And Triominoes...we used to play this when I was a kid. Can't wait to play it again!! I'm loving the mix CD - it reminds me of The Blend on XM Radio that we listen to at work. *sigh* So much good stuff!! Just in time, too! We're having a game night with the bestie and her hubs on Saturday night. Yay for perfect timing! On top of all that great stuff, she threw in a couple $5 coupons towards a new game. I think I might just have to use one (or 2) of those!! THANKYOUSOMUCH Ms Mamarazzi!! You spoiled me. :)
So...
go NOW
to check out what other swappers got. I can't wait to see all the games other people got.