Good evening, Kitschies! This doesn't really fit in any of the scheduled days, and I'm so proud of myself for doing this, I just *had* to share it with you!
For a long while now, I've been wanting a button for my blog. You know...those cute little pics that link right to your blog? Well, I finally got up the courage to try to make one.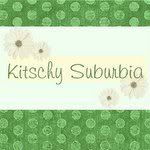 Taaadaaaah! It's not *exactly* what I wanted, but it's not bad considering I've never done something like this before
and I'm not exactly the most computer-literate person in the universe
. In other words: if I can do it...YOU can do it! But I didn't do it alone...oh, no! I had help. Lots of help. The wonderful and very wise Lu, partner over at
Housewife Eclectic
, posted two button-making tutorials. Part 1 can be found
HERE
and part 2 can be found
HERE
. Miss Lu also has her own blog,
just Lu
, which just happens to be one of my favorite blogs, too!
So, if you want to make your very own bloggy button, please check out those awesome tutorials! And please...spread the love and grab one of my pretty green buttons (the link is in the top right corner of my page)!!
OK. Well...that took longer than I expected. I'm tired and my hands are darn cold. I think I'm going to run a bath to warm up and then I'm going to curl up in bed with
Better: A Surgeon's Notes on Performance by Atul Gawande
and hopefully finish it off tonight.